STEAMED CHEESECAKES BY NEFF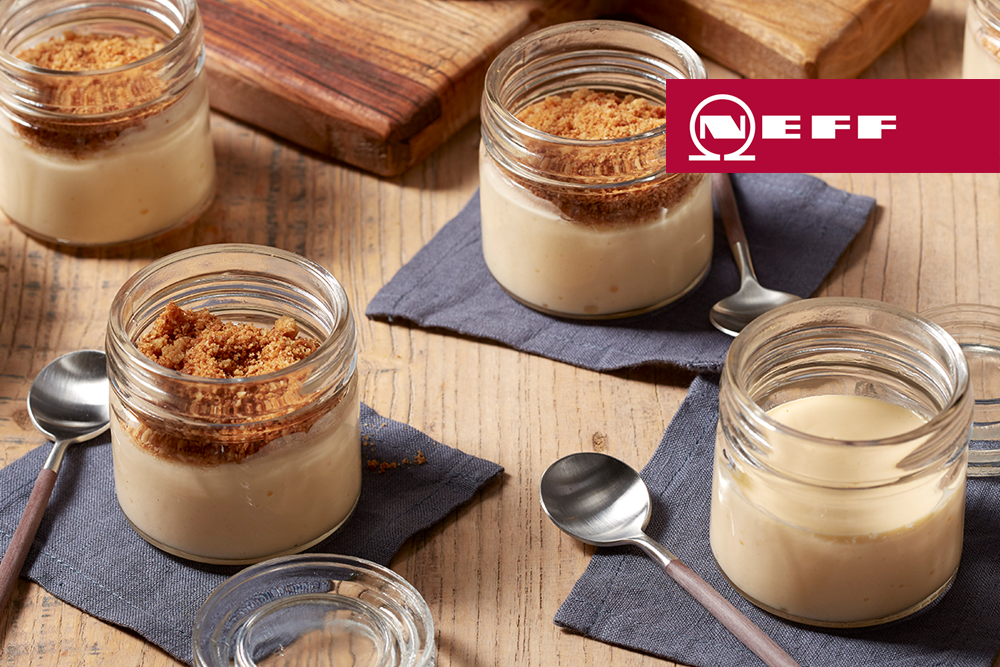 Indulge in this creamy, comforting with just a hint of crunch cheesecake by Neff.
Oven setting:                FullSteam
Makes:                            10
Preparation time:         15 minutes
Cooking time:               18 minutes
Level of difficulty:        Easy
INGREDIENTS
Cheesecake Mix
250g cream cheese, softened
½ cup caster sugar
2 tsp cornflour
2 eggs, lightly beaten
1 tbsp lemon juice
½ tsp vanilla extract
250g sour cream
Biscuit Crumb
120g Anzac Biscuits – or something similar
20g melted butter
Beat cream cheese and sugar using an electric mixer till smooth. Add the cornflour then the eggs and mix well. Add the lemon juice, vanilla & sour cream. Beat on low speed until well combined.
Pour the mixture equally into 10 x 125ml preserving jars. Cover the jars with the lids but do not seal.
Place the jars in the large perforated tray and place into the oven.
Select FullSteam 90˚c and cook for 16 to 18 minutes or until just set.
Remove the lids from the jars. Wipe any condensation from the lids then seal the jars when the cheesecakes are cool. Chill in the refrigerator.
For the crumb, place the biscuits and the melted butter into a food processor and pulse until an even crumb is formed.
Sprinkle the cheesecakes with the biscuit crumb before serving.
Stay connected in Social Media:
#brisbaneappliancesales