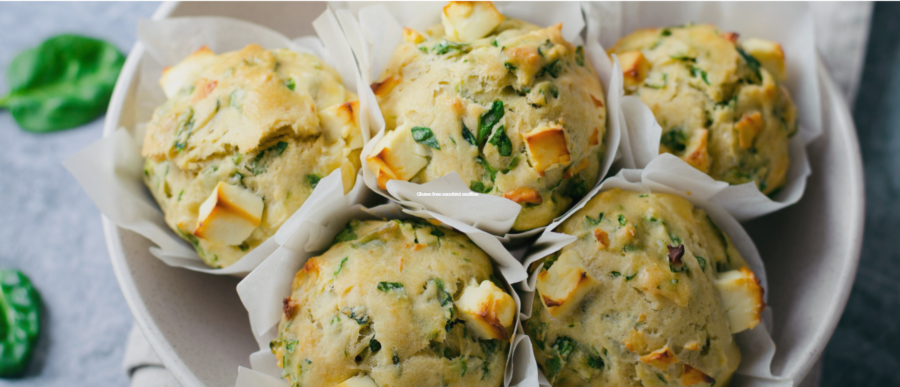 Recipe by Smeg chef Elke Travers
Fill the lunchbox with these quick and easy one-bowl muffins. It is a great base recipe – you can substitute the zucchini for pumpkin, carrot, or beetroot, or a combination.  See Elke's tips for more options.  They'll keep in the fridge for up to five days in an airtight container or you can freeze up for up to three months.
Makes 12
Ingredients:
2 medium zucchini, grated (approx. 2 cups)
2 cups gluten-free self-raising flour
3 eggs
60ml (¼ cup) olive oil
180ml (¾ cup) milk
2 spring onions, finely chopped
½ cup roughly chopped flat-leaf parsley
½ cup grated parmesan
1 cup (200g) ricotta
½ cup diced fetta cheese
¼ cup basil leaves
Olive oil, extra olive to drizzle
Set your oven to fan forced and pre heat to 180⁰C. Line a 12-hole muffin tin with paper cases or fold squares of baking paper to fit cases.
In Smeg hand blender food processor grate zucchini and place in a large bowl.  Add flour, eggs, olive oil, milk spring onions, parsley, parmesan, ricotta and fetta.  Season to taste with salt and pepper and mix well.
Divide the mixture between the muffin cases and top each with a few basil leaves and a drizzle of olive oil.  Bake for 20 minutes until golden brown.
Elke's tip: replace zucchini with other vegetables such as pumpkin, carrot or beetroot or use a combination. Seeds such as a pumpkin or sunflower are a great addition too.  If your kids aren't fussy, dial up the flavour by adding a few teaspoons of dukkah, an Egyptian blend of nuts, spices and seeds or za'atar, a middle eastern blend of herbs, usually thyme and oregano with sumac and sesame seeds.
Recipe created using the Smeg hand blender and Classic Thermoseal oven.
Photos by Smeg Australia