Follow our design tips to help you design your kitchen like a pro!
What's the first thing you think about when planning a new kitchen? If you are like most homeowners, you will probably start to ponder color schemes, finishes or even the appliances. However, the first thing YOU SHOULD think about is the kitchen layout! YES – The Layout!! Out of all of the rooms in your home, the layout of your kitchen matters most.
As a functional space, the experience of cooking and moving through your kitchen will be dramatically affected by how your appliances, cupboards and floor plan are laid out from the start. A professionally designed kitchen maximizes movement whilst minimizing the need to stoop and reach; thus improves your ability to use the kitchen as a functional space. To do this, there are several key considerations that a professional designer would factor into their kitchen design:
1) The Kitchen Work Triangle
The three most important elements of your kitchen design are the oven, refrigerator, and the sink. Cooking and cleaning your kitchen can quickly become a needlessly arduous and joyless task if you need to run laps around a poorly designed layout or these items are simply in the wrong place creating havoc as you move from one station to the other.
A great layout will allow you to move easily between the three while cooking with room to move and space surrounding suitable for preparation and resting heavy items. It should also provide enough space so that if you are cooking alongside someone else, you won't constantly be knocking into each other. To make this possible, your kitchen design needs whats known as a "work triangle". This a tried and tested formula of space between the oven, refrigerator, and sink that is typically angled between 15° and 25°.
BONUS TIP – your kitchen can have several work triangles depending on your needs and overall size. The kitchen layout above has three – a primary zone for preparing food (in blue), a secondary zone for cooking and baking (in red) and a third zone for circulation through the kitchen (in yellow). This design ensures that any traffic through the kitchen would not interfere with food preparation creating a beautiful open yet functional design.
2) Make Your Kitchen Multi-functional
"You'll always find me in the kitchen at parties"… you have probably heard and experienced this yourself. Over recent years, kitchens have moved away from being solely utilitarian and in favor of being more versatile, suitable for entertaining and relaxing as well as cooking. A professional designer will always keep this in mind and look to create a kitchen design that is open and inviting, and that can facilitate entertaining and be cooking simultaneously.
One of our favorite kitchen design options to accommodate this is to include a kitchen island with seating. This provides an inviting area where guests and family members can relax and socialize without encumbering the use of the work triangle. The host can then cook and entertain without being excluded.
3) Consider Your Cabinets
Most people don't pay enough attention to how they allocate or use cabinet space, but this is one of the key details that gives any kitchen a professional touch. Your cabinet layout should be organized according to how you use the space. Situate items that you commonly use together near to each other and at an accessible and appropriate height for their weight.
Locate frequently used items where they are easily reachable, so you don't need to stoop down. Even simple touches such as elevating and organizing your spice collection so that it's easy to see can improve your experience of using your kitchen. Custom kitchen cupboards allow you to use your available cupboard space to maximum effect, there are many space saving designs and user friendly options such as the SERVO DRIVE – The electric motion support system by Blum. Mesmerizingly easy, the doors open as if by themselves with a single touch on the furniture front and close again softly and effortlessly allowing easy open doors in a seamless handle-less design.
4) Create a Floor Plan
The best way to start any project is with a plan. That way you can plan your kitchen layout and design before you book your contractor and most accurately problem solve before any costly mistakes. You can plan your kitchen with many online floor plan and home design softwares available. Test different layout options, add fixtures, finishes, and cabinets, and see how they look instantly in 3D. Even a sketch on simple grid paper is a great way to start, cut out some symbols to mark your oven, fridge and benchtops and start moving them about your plan to see what design works for you and your space.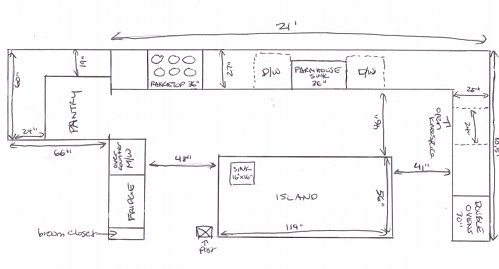 – – – – – – – – – – – – – – – – – – – –
At Brisbane Appliance Sales, we have all the product knowledge to advise you on the right products for a kitchen that will last for many years. With over 50 leading brands and specialty products to fulfill all your kitchen, laundry, bathroom and alfresco needs; Brisbane Appliance Sales is Queensland's leading kitchen and laundry appliance specialist – offering traditional value and service in a spacious, state of the art showroom.
Book an appointment with one of our specialists and visit our cutting edge showroom to see how we can tailor a solution to your appliance needs.
Brisbane Appliance Sales | 171 Enoggera Road, Newmarket Qld | 07 3356 8088